Rotherham-based Gala Tent Ltd, one of the UK's leading producers of marquees, tents and gazebos, has helped breathe new life into Electric Avenue, one of London's most famous market streets. Gala Tent were appointed by Lambeth Council after winning a competitive tender to provide temporary market structures which forms part of a million-pound makeover of the world-famous Electric Avenue arcade, funded through the Mayor of London's High Street Fund, Heritage Lottery Fund and Lambeth Council. The temporary structures provided by Gala Tent will be used to replace older outdated market stalls and will complement the extensive overhaul of Electric Avenue which has seen the installation of new LED lighting, the creation of new hard landscaping and new power units for market traders.
Celebrations to commemorate the re-opening of Electric Avenue were led by Eddy Grant, singer of 1980s hit "Electric Avenue" who unveiled a new neon sign to mark the completion of the refurbishment project. Since launching in 1999, Gala Tent has developed a range of bespoke marquee and gazebos aimed specifically at market owners, which have been used to support a range of weekly events taking place across the UK through its partnerships with a number of local authorities and outdoor market organisers including Group Geraud, NABMA (National Association of British Market Authorities) and the national market initiative, Love Your Local Market.
Jason Mace, managing director of Gala Tent, said: "It is an honour for us to see our marquees and gazebos as the focal point to one of the most famous markets held in the UK. Electric Avenue is a world-famous street, with an equally iconic market. We worked closely with Lambeth Council throughout the summer and they will be able to benefit from our tough, durable and flexible range of products which have been specifically developed with market owners and traders in mind. "Street traders will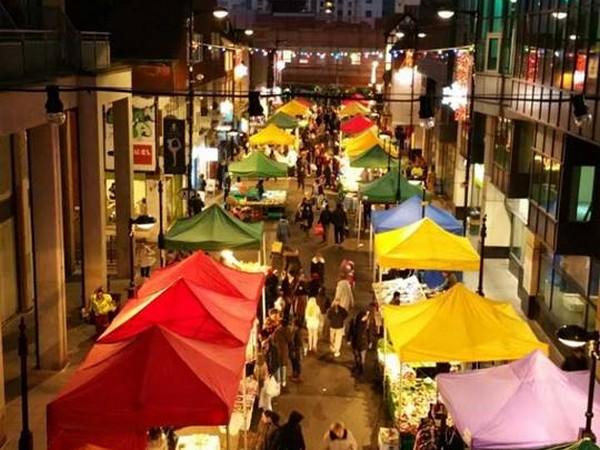 benefit from a brand-new marketplace and it's plain to see the work undertaken will help to play a vital role in regenerating the locality. It has been a real pleasure to support this exciting regeneration project and it's been an interesting, enjoyable project that we're proud to have contributed towards." Cllr. Jennifer Brathwaite, cabinet member for environment & transport, at Lambeth London Borough Council, added: "Electric Avenue was the first street to be lit by electricity in Britain and the street has an enormous amount of cultural significance within Brixton. The regeneration work we have undertaken will help to restore this popular area to its former glory, delivering a much-improved environment for traders and local residents, boosting trade, making it easier for people to shop and increasing visitors to the town centre. "The launch of the refurbished street was a huge success which was made memorable by the Mayor of London and of course Eddy Grant, who helped to make the name Electric Avenue known throughout the world.